Drought Tolerant/California Native Gardens
California is no stranger to drought. With statewide water use restrictions in place, many homeowners have turned off their irrigation in these uncertain times. Their once green lawns were left to wither way, or removed them completely…
California is no stranger to drought. With statewide water use restrictions in place, many homeowners have turned off their irrigation in these uncertain times. Their once green lawns were left to wither away, or removed them completely. Lush plantings beds which were once a beautiful backdrop are now a dried up shriveled mass of plant matter. While these moves were necessary for water conservations, oftentimes the result is dried up patches of dead grass and bare spots left in the yard. Needless to say, this is not the most appealing option.
Drought-resistant Perennials
We Create Decorative Walkways
Sustainable Vegetable Gardens
Luckily, there are more options than ever to create a beautiful, drought-resistant landscape that is easy to maintain and doesn't depend solely on cactus or succulents.
Hardy ground cover can take over where the lawn left off, putting down roots to prevent soil erosion and adding a splash of color while requiring little maintenance to keep them healthy.
Decorative grasses can be added throughout a yard and don't require mowing.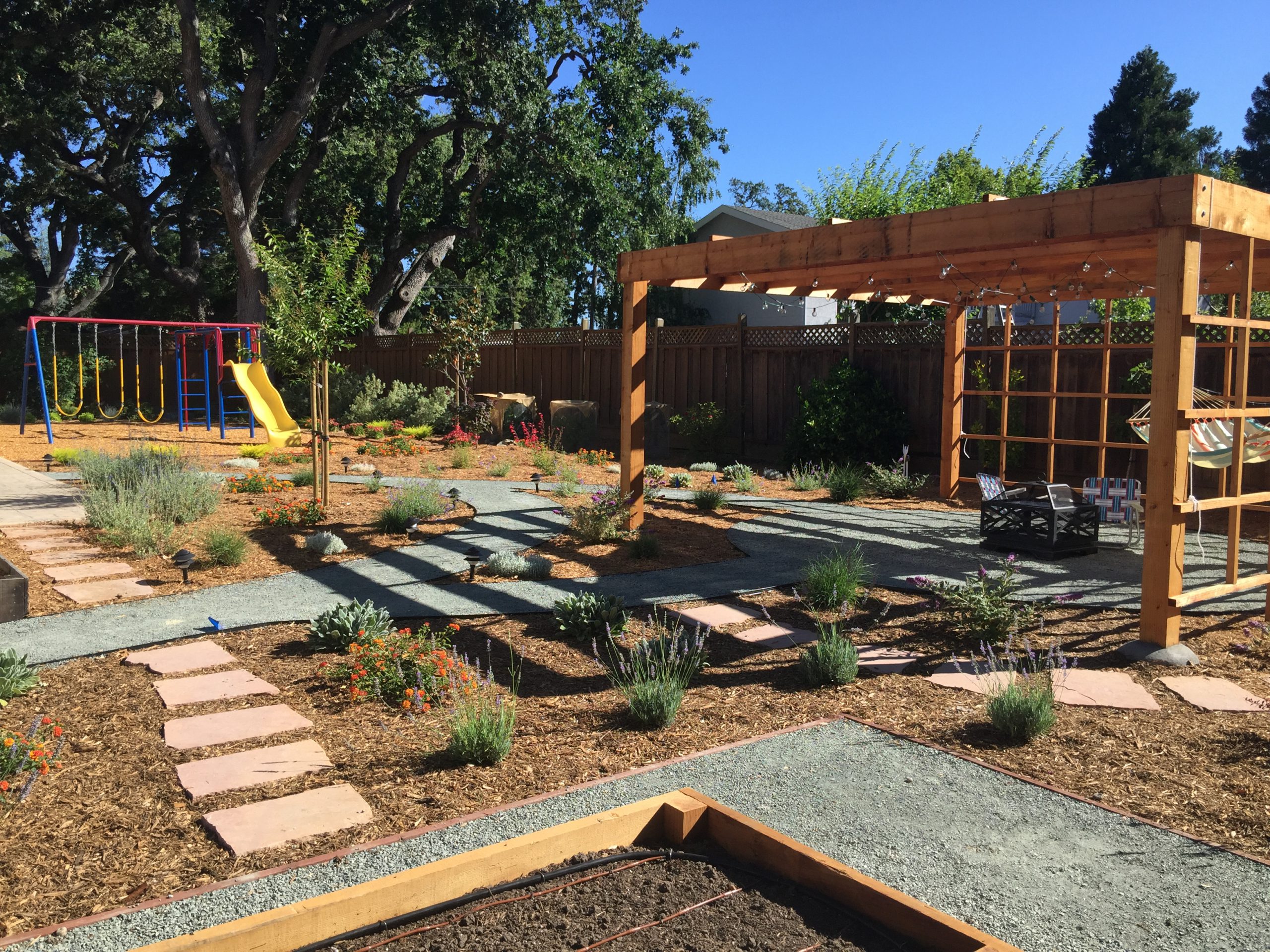 Drought-resistant does not mean you have to miss out on your annual flowers. There is a slew of strong, drought-resistant perennials that are just as vibrant when blooming and need much less attention to thrive
Decorative stones, gravel, or aggregate can be used to create walkways, act as a backdrop for plants, and require zero water or maintenance making weed control a breeze.
Native plants are a surefire way to make certain that your yard will thrive in the California heat. Natives also have the benefit of being deer tolerant as these plants have evolved to grow alongside our deer inhabited hillsides.
Synthetic lawn is perfect for those who still crave the green swaths of grass, but with zero water usage. It is a great option for families that need play spaces for children and/or dogs. It gives you all the benefits of sod laws without the water usage or hassle of mowing.
Vegetable gardens and drought-tolerant generally do not go together, however, lot of popular vegetables are water-miserly. Your landscape plan can be the soul of sustainability and a culinary masterpieces as well. And if you have kids, planting veggies can be a wonderful way to introduce them to the joys of gardening as well as getting them to, possibly, eat their vegetables.
"As always, Steve and his crew were wonderful to work with!"
This time we needed half a fence replaced and trellis removed. We won't use anyone else for our landscaping needs! Awesome work and great customer service!
info@vinceslandscaping.com
3940 Pacheco Blvd, Martinez, CA 94553
Proudly Serving Lafayette, walnut creek, Danville and Surrounding areas
Let's Build Your Dream Garden Together
From start to finish we use our open book model of pricing and communication to make sure you know exactly what is going on every step of the way. Our focus is having you, as the client, able to select everything that will go into your yard prior to starting so that you can sit back, relax, and really enjoy seeing everything take shape.