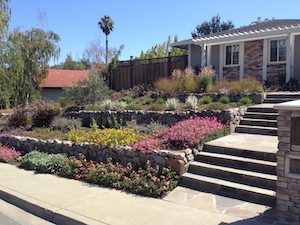 Frontyards
The first thing that greets you as you arrive home after a long day. Find some inspiration here…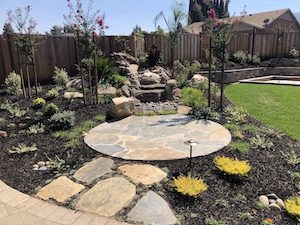 Backyards
Outdoor dining, bocce courts, kids play areas, veggie gardens, the possibilities are endless…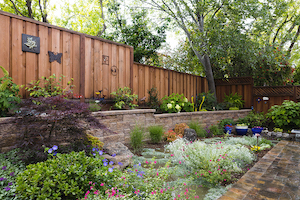 Drought Tolerant
California is no stranger to drought. With statewide water use restrictions in place, many homeowners have turned off their irrigation in these uncertain times. Their once green lawns were left to wither way, or removed them completely…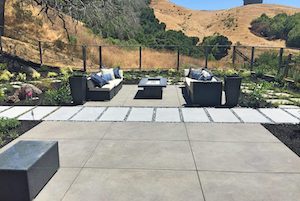 Modern Gardens
Highlight modern, carefree materials in your yard by embracing modern garden design The beauty of this design style is more than skin deep. By using materials like stone, metal, and concrete, you leave behind many upkeep considerations…
Local Family-Owned Business
Vince's Landscaping, Inc. brings the knowledge and care that comes from a family-owned and operated landscape construction company that has been in business since 1982. Many of our employees have been part of our family for over 20 years and bring in their own specialties to our company. Contact us today to see how our experience, advice, and expertise can help you create the garden you are dreaming of.
Home Garden Design
Like most homeowners, figuring out what you want to do with your yard may be an overwhelming task. Many times with a simple visit from Vince or Steve, we can figure out how to achieve your goals for the yard. Give us a call for a free estimate and consultation so we can brainstorm about your project and see how we can go about helping you.
Sometimes we will need a complete CAD drawing of the project before we can begin. We have multiple landscape Designers & Architects we work with that can create a Design of your project so you know exactly what your yard will look like before we put a shovel in the ground.
Call us so we can determine if a design will be necessary to complete your project and if so we will refer you to the designer or architect that best fits your yard.
Creating High-Quality Home & Commercial Since 1982
Vince's Landscaping offers superior service along with a guarantee of workmanship to ensure the highest degree of customer satisfaction. Our long-term relationship with our clients is evidence of our ongoing commitment to providing quality service. At Vince's Landscaping we are here to assist our clients long after your project has been completed.

"Steve was easy to work with and his team was courteous, considerate and professional."
The pavers and landscaping they installed for us is quality work and was reasonably priced. They even finished way before the date they promised to accommodate an outdoor event we had planned. We wouldn't hesitate to hire them again highly recommend!
"The crew at Vince's Landscaping did an exceptional job!"
"As always, Steve and his crew were wonderful to work with."
"This time we needed half a fence replaced and trellis removed. We won't use anyone else for our landscaping needs! Awesome work and great customer service!"
info@vinceslandscaping.com
3940 Pacheco Blvd, Martinez, CA 94553
Proudly Serving Lafayette, walnut creek, Danville and Surrounding areas
Let's Build Your Dream Garden Together
From start to finish we use our open book model of pricing and communication to make sure you know exactly what is going on every step of the way. Our focus is having you, as the client, able to select everything that will go into your yard prior to starting so that you can sit back, relax, and really enjoy seeing everything take shape.